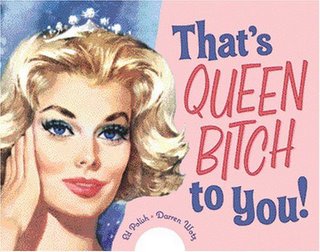 Sometimes when I get busy I forget to blog. So quit yer bellyaching here's a post:
----
Busy is a dumb word. Bizzy = Busy? Whoever invented English is lame.
Come to think of it Dumb is a dumb word. Silent e = good idea. Silent b = lame.
----
A PTA lady got super mad at me today over a Girl Scout skirt for her daughter. Best comment of the whole blow up: "Well you have never done anything for me have you, Kate".
Tip: Don't ever say that, unless a) Kate has never done anything for you and b) You want to look super selfish and bitchy.
I hear
Selfish and Bitchy is the new look for Spring
though...
----
February is seeming to suck for so many of my friends. Thank the FSM it is a short month. Let's rock March like its 1999.
----
That's all you get for now my peeps. Haven't been pokering lately cause of my cute kids and stuff. Back soon! mwa!